Olive Egg Farm's WordPress Solution
Sometimes Facebook gets it right!  Thanks to Facebook and the genius behind social media, I was introduced to Olive Egg Farm simply because they were located around the corner from my house.
If you've ever scrolled through your Facebook news feed, you'll see everything that is going on around you – company and business pages you follow, friends' updates…and every once in a while Facebook throws in a suggestion of a page that you may be interested in.  That's where the genius of social media stuns me sometimes.  I'm not sure what I have searched on recently that would have Facebook thinking that I'd be interested in an olive egg farm – but all I can say is that Facebook is a genius!
I checked out their Facebook page and instantly fell in love.  I actually shared their page with a neighbor of mine that has her own chickens.  I figured we all could get together one day to talk about farming (since my husband wants to start becoming move sustainable on our small acreage).
Then I scrolled down…and…well…I emailed her immediately.  I wasn't sure if she had just launched her site and I simply got to it too soon – because there were tons of sample text in widgets on the side bar.  Every page was a post page – including her home page.  (This means anyone could leave a comment and that comment could be seen by all her other visitors…so having this feature as a part of a homepage seemed odd to me.)
I found out that she was attempting WordPress, however, understanding the ins and outs wasn't her specialty.  Of course it wasn't – she focuses her day on her business – Olive Egg Farm!  Why would she ever need to know WordPress – that's MY job!
Even though she and I have never met in person – she trusted me.  And I'm so glad and grateful she did.  I fell in love with her philosophy – "Permaculture, Not Agriculture.  [Their] philosophy underpins everything we do. It determines how and what we eat every day. It determines how our animals are treated and how we treat each other."
Shannon and Olive Egg Farm went from tech-support-junkies to back to focusing on their business and driving toward success in a matter of days.  Their Facebook page went from around 400 likes to close to 1,000 after the relaunch.  And they have a waiting list of almost 50 customers for their Egg CSA, which is currently sold out.  Like almost everyone, their focus is on their business…not on understanding the back end development of a website.  That's where Given Wings Design Studio enters…
So, what exactly did Given Wings Design Studio do for Olive Egg Farm?
Just about everything from rebranding of their logo design with a set color scheme, web design, content marketing and a bit of advice.  I was very fortunate that Shannon already had copy – so simply inserting her copy into my page builds was super easy and made her website launch time next to nothing!
I redesigned their logo – chalkboard design with some olive green coloring.

I cleaned up the back end of their WordPress dashboard and loaded one of my favorite themes, Divi.  This theme is one of the best themes I've used – fully responsive (able to use and view easily on mobile devices), clean and fully customize-able so that no two are alike.
Here are some before pictures of her old site.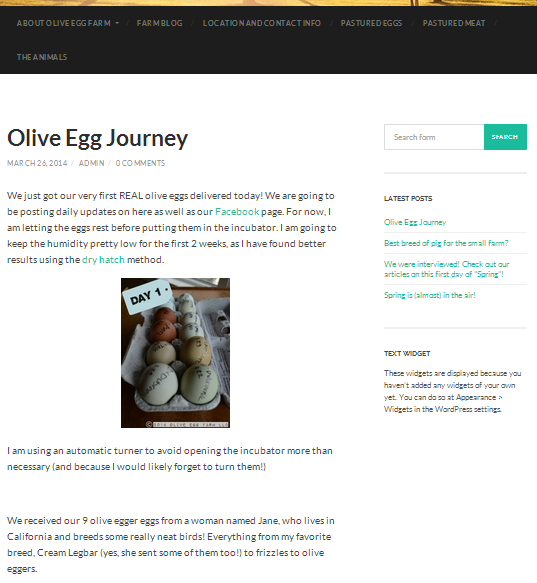 After I updated their theme, I did quite a bit of customization to the code, including adding a specific color scheme to the overall layout.  This creates more brand recognition whenever they use their specific olive green coloring on their items – marketing materials, Etsy shop banner…wherever they venture next.
Now their site is fresh and innovative.  The pictures below do not due the site justice.  Be sure to visit the site in person to see the cool sliding images and other slick design features.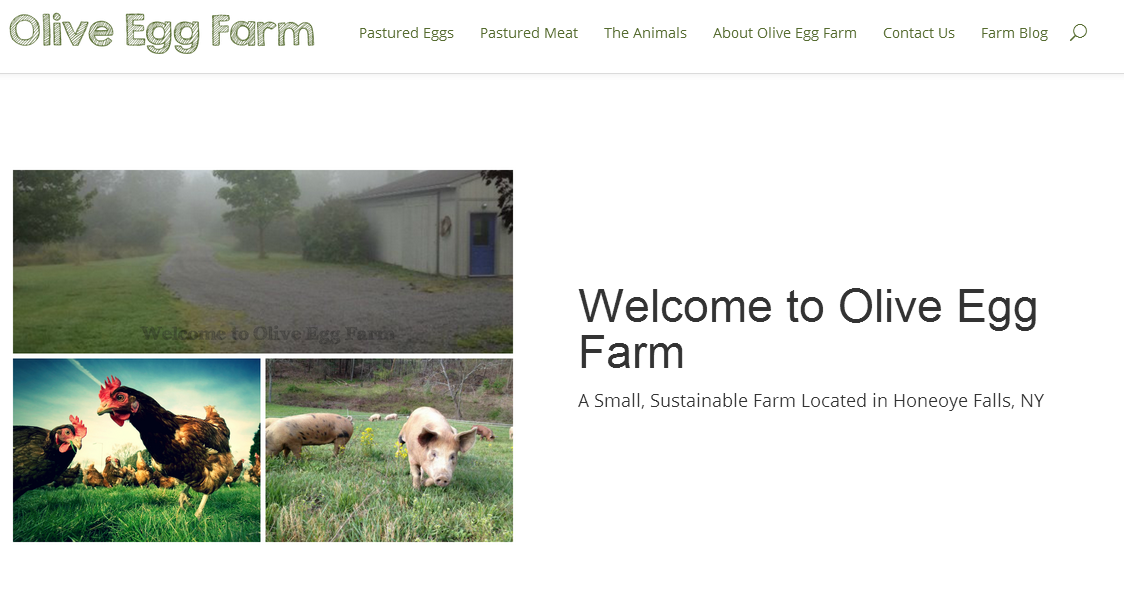 Even their Farm Blog got a face-lift.  Because of the innovative design of the Divi theme, I created a blog gallery page for Shannon.  This allows her readers to pick and choose which blog post to reach, instead of the super-annoying scrolling feature that many themes out there use for blogging (where you have to scroll through posts to get to the older posts).
The Farm Blog page updates automatically for Shannon.  All she has to do is add a new Post and *VOILA* – it appears first on her Farm Blog (gallery) page.
Working on the Olive Egg Farm site update has been a blast and Shannon was a dream to work with.  She has a vision for her business and a passion for what she does.  I am not shocked at all that her business is soaring.
Please like Olive Egg Farm on Facebook and don't forget to visit her Etsy shop for hand-painted items right from the farm!
If your business needs a new, innovative website…or if you simply need help with understanding WordPress while you focus on your business, please contact us today.  We're here to give you business wings!